Lion
Pack 110 is proud to be piloting the Lion Program in 2016-17.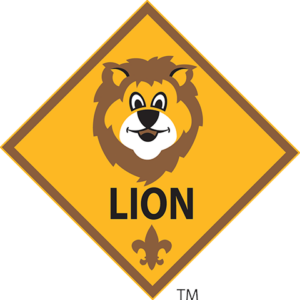 The Lion program weaves traditional Scouting concepts of character development, leadership skills, personal fitness and citizenship into activities that are age-appropriate and fun for the boys and their parents.
The activities introduce the family to Cub Scouting, and provide an exciting way for the little guys to explore the world around them. The program will fuel their imagination, creativity and fun as they experience the growth Scouting can provide.
At the end of the Lion year, they "graduate" to Tiger and advance through Cub Scouting.
Lion Adventures, Uniforms and Pack Involvement
"Adventures" (themed sets of activities and experiences) will assist Lion families in exploring the world around them. As they complete the requirements for each adventure, Lions will earn an adventure sticker to be placed in their Lion Adventure Book. Lions earn stickers, not adventure loops (belt loops) as they will do in Cub Scouting. Additionally, Lions will be led by parents filling the role of "Lion Guides" and will meet as dens of six to eight kindergarten-age boys.
Lions will wear their own approved uniform, a Lion t-shirt! It will be available in pilot-approved Scout Shops to help the Lions feel unique and special. Lions should not wear the Cub Scout uniform until they are old enough to officially transition into Cub Scouting as a Tiger. Lion dens may be invited to participate in a few pack meetings, but care will be taken to ensure that any meetings they attend are fun and engaging for boys of Lion age. Boys are restless by nature, younger boys even more so. Late nights, long meetings, lots of sitting and listening will be avoided for Cub Scouts and Lions, alike. Instead, meaningful and fun activities should be planned for Lions in any meetings they attend. At the end of the kindergarten year, Lions will "graduate" into Cub Scouting as a Tiger – where even more fun and adventure will await!